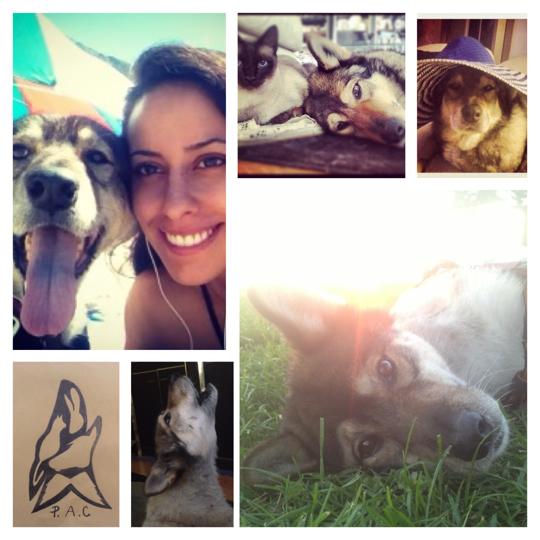 Our Story
Before becoming a veterinarian, I was a pet owner to many dogs, birds, hamsters, turtles and rabbits. It was my relationship and experience with my Alaskan husky, Sassy, that birthed PAC: Private Animal Care. 
Most of my previous pets, I owned as a young child or teenager; but my dog Sassy was in my life as a young adult and at the very beginning of my veterinary journey. One night, after a routine "good night- belly scratch", I noticed a lump on her chest/shoulder. It was news I dreaded to hear; it was cancer. We went home and it was difficult to accept that my friend was leaving us. She felt my heart heavy and we laid close together on the living room floor. Our love language was howling and staring at each other with joy.
That night, we drove the neighbors crazy and howled our lungs out. I knew that she deserved to leave us in the most tranquil and familiar space, surrounded by her family and animal pack. She was a special spirit and it was our best way of honoring her life. We utilized an in- home euthanasia veterinary service and gifted her with final rest in the comfort of our home. Losing a pet always felt like a loved one leaving, but this experience brought a certain peace that aided me through my grief. 
Later in my journey, I became a veterinarian and strived to provide quality medicine for pets and quality resources for owners. The amount of time and amount of information that I wanted to provide pet owners is what motivated me to find a solution. As I began brainstorming, my mind quickly remembered Sassy and how our last moments together were spent. At that moment, I knew I wanted to provide a private, in-home veterinary service for animals. It was simple! Create a veterinary experience that gives owners convenience, provide pets comfort and a thorough exam, and offer routine services/ diagnostics. 
PAC: Private Animal Care was born! To honor and represent all animals, our company logo reflects Sassy's silhouette of her last howl. It symbolizes her call out to the pack, which are all animals. Her howl was her way of expressing her unity, loyalty and love. As the founder and a veterinarian, it was important for me to transform and translate this experience into my new journey with PAC. Our mission is to be of support, comfort and guidance through communication, commitment and love for our members, which are the families and pets we service.